Welcome to Touchpoints at Manchester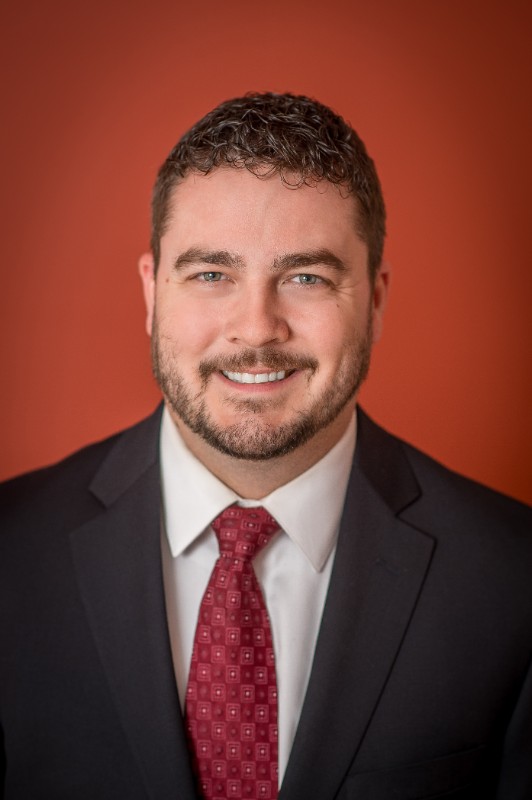 Patrick Neagle
Administrator
Dear Residents and Family Members,
Welcome to Touchpoints at Manchester. We are a leader in post-acute, rehabilitative and skilled nursing care.  Beyond short term rehabilitation our services and programs include a secured behavioral health program with a strong recovery-based model and our signature, specialized programs for congestive heart failure rehabilitation and pulmonary care.
Our Director of Nurses leads a motivated, experienced nursing department who treats the 'whole person' as we strive to meet the physical, emotional, and psycho-social needs of all our residents.  This facility treats resident care with a holistic approach and our team follows the company mission that they will "enrich the lives of the residents we serve".
Our progressive, personalized approach to care enables your recovery to progress at a better pace. We also aim for better results. By bringing together all the expertise you need in one place, you are free to concentrate your energies on healing. 

Specialty Services

iCare Health Network Blog
All the latest news, discussion, and updates from the iCare & Touchpoints Rehab team.
Trinity Hill Care Center in Hartford will be supporting a toy drive at the care center as well as at 673 Park Street in Hartford, from 1-5PM. Displayed here are the flyer with all the details and a picture of Anthony dressed as Santa while passing out gifts at Connecticut Children's.  The toy drive will benefit Connecticut Children's Medical Center where toys will be supplied to children who are receiving care starting in December and continuing throughout the year.
"Rated 10/10. My stay here has been very healing in mind, body and spirit. Many wonderful people have touched my life in a very positive manner for which i am very grateful."
~ Resident JS (March 2021)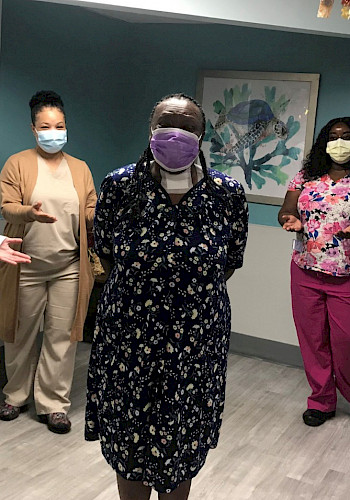 "I do not remember how I got to the hospital but I will never forget my new family I found at Touchpoints at Manchester. God gave me a second chance, his next miracle I was welcomed for rehab by the wonderful staff at Touchpoints at Manchester. I could not speak or write to communicate. The staff at Touchpoints took the time to read my lips and understand my gestures. They showed me so much kindness with no judgment. They took care of me. My fears began to fade. 24/7 nothing was too big or too small. Each and every one of them gave me their utmost attention and respect. This experience has been so challenging but I now know because of the remarkable, unconditional love my Touchpoints family has showed me God has a mission for me. I have a spirit I never knew I had. If the Touchpoints at Manchester staff can help me recover and thrive, they can help everyone. With my deepest gratitude and love."
~ Vera Cheatem (February 2021)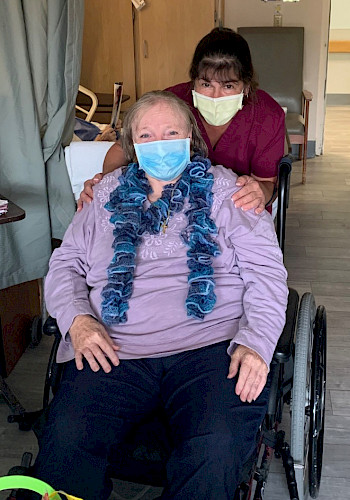 "I have such phenomenal appreciation for all of the staff. I don't believe you receive enough gratitude and recognition of just how much you are greatly valued and loved for your diligent hard work at Touchpoints. You are the scaffold that keeps this place afloat. And though not everyone is able to express their support to you, please know it is on the minds of all the residents. I truly believe I am alive today, because no matter how much you are challenged, you all have a devoted, invested sense of responsibility to fulfill why you have chosen this career. I give thanks to all of you for persevering through this pandemic, and the changes imposed upon you. Your convictions have allowed me to rest comfortably knowing I am in the best possible environment conducive for my well being to best meet my needs. I would say 100% of the time, my stay here has been stupendous. I love the how well the staff helps each other, they work a lot of hard difficult hours to accommodate our needs. They work in tandem with the nursing staff and the support that they get and give. They are open to suggestions and are willing to make the changes to benefit the resident. They , the staff are very concerned about our welfare and treat us like their own family member. I duly respect and look forward to seeing the staff everyday. The CNA's have taken on a lot more responsibility after the virus encroached this facility. If ever I have a concern I can address it with any staff member with my questions and thoughts. All department are cohesive with one another seeking advice when needed. I can depend on the staff for my physical and emotional needs."
~ Martha Leland (March 2021)
"When I arrived for a visit, I was met by recreation assistant Beth. I observed her interactions with the patients in her care. I want you to know that I saw most caring person I've seen as yet on your staff. She was so kind and respectful as she interacted with the patients, engaging them with music, games and conversation. I've worked with her before, years ago. She is the same sweet, caring professional that I remembered. Your patients are blessed to have Beth working in the facility. She was the best worker back when I knew her and she still is. I just had to tell you. Lucky Touchpoints to have such a gem of an employee. Lucky patients."
~ Kathy Roy (August 2020)
"I am so aware of the dedication of the nurses and staff and all those involved in the care of the patients during this Covid19 pandemic. What I can't understand COMPLETELY is your DAILY selfless acts of kindness and care that you have extended to each person in the Touchpoints Manchester facility. Only YOU understand that. You have used your gifts and talents and love to care for each person infected…and also those who were fortunate enough not to be physically touched by this terrible virus. You put the care of the folks at Touchpoints above your concern for yourself and your family members. I am grateful FOR you and TO you."
~ Friend of Resident, During COVID (May 6, 2020)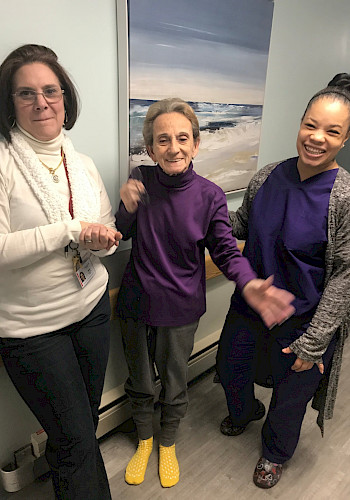 "When I arrived at Touchpoints from the hospital, I was in a desperate condition. I really did not think I would make it through the night. Kim, my care navigator and Physical Therapist immediately asked if she could sit with me. She really listened to me and I feel because she listened she was able to help me breathe easier, calm down and feel safe. Kim assured me that the Touchpoints cardiopulmonary program is very comprehensive and they will work with my cardiologist, Dr. Dahhan. I felt confident I was in the right place. My husband and I met with the entire team to map out my care; they wanted to make sure all our questions were answered and that I was an active part in my plan. Here I am today, no longer requiring oxygen to breathe and be active. I am walking without a walker or cane. I can tackle stairs without shortness of breath and breathe on my own! I would like to express my thanks and appreciation to one and all for the care, compassion and thoughtfulness that went into my care since I have been here at Touchpoints."
~ Rosemary Rittner (February 2020)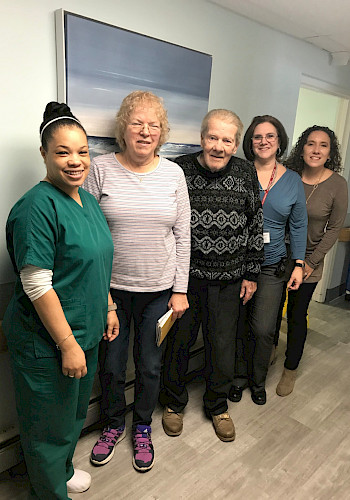 "It is a miracle! The wonderful staff at Touchpoints at Manchester did a marvelous job supporting and rehabbing my brother. I did not think this day would ever come. At the hospital they told me he was hours away from dying and here we are today going home and feeling good. - Mary Latour, Sister I give the great staff at Touchpoints 10+/10. Every aspect of my rehab stay was exceptional. Kim, my care navigator was always smiling and ready to help in any way. She was a great support to my sister as well. The rehab team really understood me. My progress has been truly remarkable I have learned a lot here including I need to be more attentive to my health. The food was excellent! I cannot say enough about my experience and results this amazing team I am grateful and can not thank everyone enough . I will recommend Touchpoints at Manchester to everyone. - Richard Hagenow, Patient"
~ Richard Hagenow and Family (January 2020)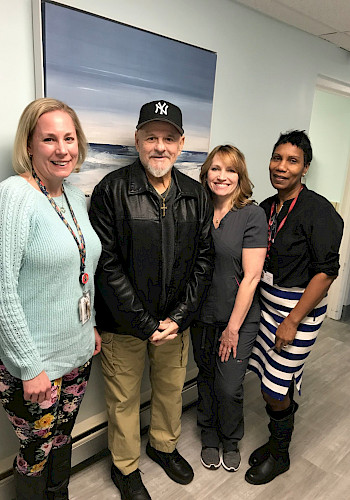 "First I must say everyone at Touchpoints is kind, attentive and professional. My private room is comfortable and very clean all the time. I had a great experience with the Rehab team , we actually had fun during my therapies and I think all the smiles made me recovery faster. I give Touchpoints at Manchester an A+. If I need short term rehab again I would definitely choose Touchpoints at Manchester."
~ Rafael Roman (January 2020)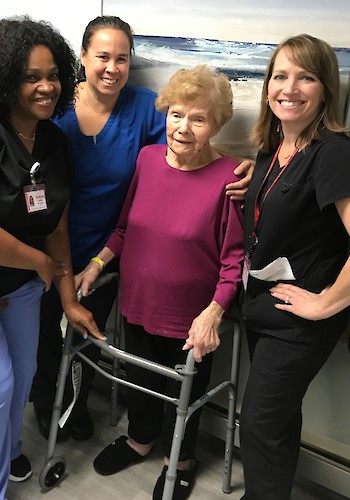 "At 90 years old, I feels so thankful my wonderful Orthopedic doctor, Dr. McAllister, was willing to give me a chance to be more mobile without pain. He did a great job with replacing my hip. Before my surgery, we had discussed that I should plan on going to Rehab for my post total hip recovery. There was only one choice for me: Touchpoints at Manchester! I was able to pre-book my stay. It was a simple phone call. It took just a few minutes. This gave both myself and my family peace of mind. Kim contacted my daughter and I before the surgery to make sure she was up to date about my home my concerns and my needs.When I arrived I was so happy to see Kim! She just takes care of everyone and everything. Everyone at Touchpoints is kind and attentive. I never had to wait for help. The rehab staff is the best. I have a very complicated group of conditions that make moving challenging. The occupational therapist Tani and Norma and my PTs Heather and Erin always found a way for me to be successful. We met several times to ensure a successful return to my home. I can not say enough about everyone and my experience at Touchpoints at Manchester. You have my heart."
~ Agnes Carone (October 2019)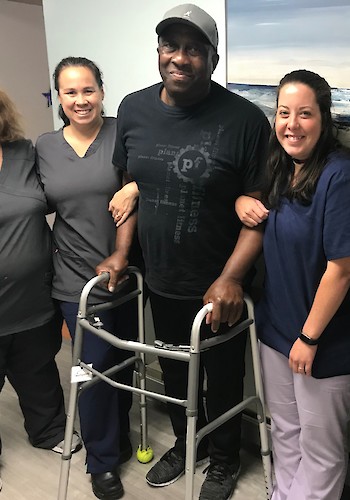 "When I arrived at Touchpoints at Manchester I could not do anything for myself. I needed help with everything. I was not sure I would ever be able to go home and walk again. I began very sick and I had so many things stacked up against me. But once I met the wonderful rehab staff at Touchpoints I just knew they cared about me and would work hard to get me on my feet and get me home. There were many challenges along the way but with each challenge there was a solution and a success. Because the entire staff from the house keeper, kitchen , nurses and rehab team were so positive and so kind I find myself confident, ON MY FEET WALKING and going home today. I wish I could find the words that truly describe the staff here at Touchpoints. Words like extraordinary, superb, compassionate, supportive, motivating, the deepest level of kind, knowledgeable, creative and dedicated are just a few. I give Touchpoints at Manchester the highest rating I could give " A++++++ is not enough". Touchpoints at Manchester will be my only choice for rehab!"
~ Nazene Mitchell (October 2019)
"My mother received excellent care and loving attention. At 90, she had only one hospital stay other then having her five children so she was afraid. When she arrived to her room there were fresh cut flowers in a vase on her window sill and a care package with puzzles, earbuds, and other comfort gifts. She appreciated the kindness and humor of every CNA, therapist, and nurse. She said the food was excellent. She never waited to be helped when she used her call button. And her coffee was always nice and hot! My siblings and our children were always greeted by the front office staff with a smile and "enjoy your visit". Her transition home was seamless and she continued to receive excellent care at home.Thank you to all of the staff at Touchpoints at Manchester."
~ Mary Walsh (September 2019) via Google Review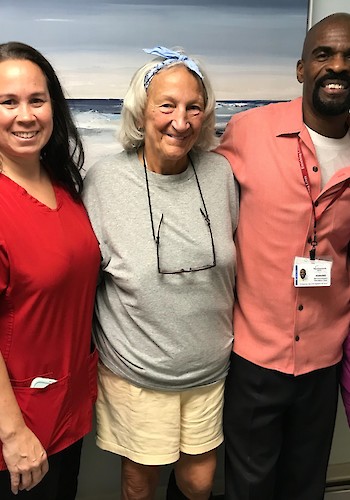 "The rehab team here at Touchpoints at Manchester is fantastic! All the therapists supported my abilities and also what to avoid as my injury was healing. They made therapy fun and very personal. The team also did a great job working with my insurance company to ensure I was able to stay here as long as I needed to. They also gave me options for a back up plan just in case my insurance did not approve my stay to continue. This help me to be able to focus on my recovery. Kim, my care navigator was amazing. She always knew exactly what was going on and would check in with me several times to a day see if there was anything I needed. She makes everyone feel special and in the know. Beth and Chuck from recreation are so wonderful. They were attentive and always made me smile. They offered me opportunities to be engaged with others doing fun and often educational things. They are a wonderful part of everyday. I will miss so many people here. I am grateful for all they did for me."
~ Maureen Rosen (September 2019)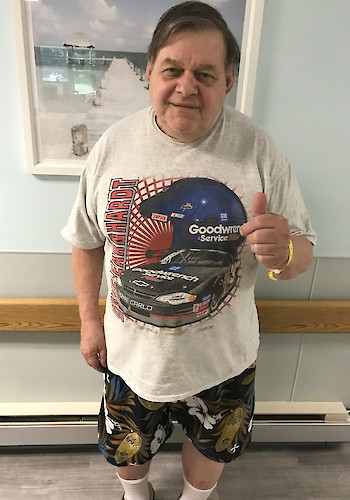 "I had a wonderful rehab experience at Touchpoints at Manchester! Everyone is attentive and kind. I was in really bad shape when I arrived. I felt supported every step of the way. I consider you all my new extended family. The medical care and rehab team are top notch! I give you all 100 stars! I will recommend Touchpoints at Manchester to everyone. I will miss you all. Thank you! Robert's Wife: You brought my husband back from the dead! I was so worried he would not recover and be unable to come home. Here we are today, going home, he is in great shape and I see a confidence in him that makes me secure."
~ Robert Bezzini (July 2019)
"When I arrived at Touchpoints at Manchester after my hospital stay I knew I was in a really good place. All the staff are so caring and kind. I had a bad episode with my COPD this time and I needed a lot of attentive care. Things can change so quickly when you have COPD. It was important to me and my family I was somewhere that had a strong history of success and excellent care. That is what I found at Touchpoints at Manchester. Kim, who I felt was my personal concierge during my stay, would check in with me many times per day. She would make sure my questions were asked and answered and always brought a smile. She noticed my young grandson was visiting, she made sure he had snacks and even set up a activity box with games and other things. It was great to have during his visits. Kim even made sure I brought it home with me just for him. The Rehab team is so great! They know just how to support and encourage you. They got the best out of me everyday. They even made therapy fun. Special thanks to Erin, Kristen, Tani and Heather. Delores, my nurse spent extra time with me to make sure my discharge home instructions and supplies were 100%. I am happy to being going home so quickly but I miss my friends at Touchpoints at Manchester already. I give Touchpoints at Manchester 5 STARS!"
~ Doris Vargus (July 2019)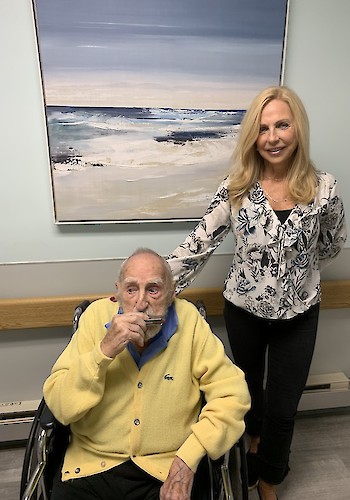 "Right from the start the communication was wonderful! Everyone here at Touchpoints is so kind and attentive, at every level of service, Chet from housekeeping, Kristen and Marina who spent time with us so we understood all the insurance details, Erin and Heather from Rehab, Colleen and Beverly my dad's favorite CNAs and Delores and Thelma his wonderful nurses. I have been so happy with the care and caring my father received. My dog was able to visit as well. There were many changes we had to prepare for, this wonderful Touchpoints team gave us the time and resources we needed to bring dad home with confidence. I knew my dad was feeling better when he began to play his harmonica again! Many of the staff shared that my dad's daily concerts would be missed by all. I would recommend Touchpoints at Manchester to anyone who is looking for great care, a compassionate/ kind staff and truly devoted team."
~ Daughter of Russell Gilbert (June 2019)
"When I arrived at Touchpoints at Manchester, I was in really bad shape. I had absolutely no energy. I was not sure how I was going to find it within me to get well. I was not able to do anything for myself. But then I meet the rehab team! I should say the "SUPER REHAB TEAM". They somehow knew just how to support me with both compassion and challenges that help me find that part of me I thought was lost forever. They inspired me to do more each and every day… and today I am going HOME! So many of the staff would tell me that I am an inspiration! But the truth is this amazing Rehab team was the inspiration that helped get me motivated and back home. I give the Touchpoints at Manchester team a gold metal, the highest honors possible."
~ Robert Aubin (June 2019)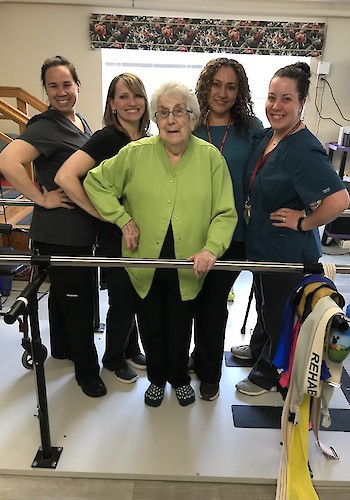 "I had been a patient at another rehab in the past, my family and I did not want to return to that facility so I came to Touchpoints at Manchester. Touchpoints has been a GREAT experience! When I arrived at Touchpoints from the hospital , I was in bad shape, so many things were going wrong. I also had severe pain in my leg which kept me from walking. I had been falling at home and even once I got to the hospital , no one seemed to know why I was having so much pain and exactly what was going on. At Touchpoints , they were determined to figure out what was going on and help get me home. The rehab team made therapy fun and effective. Everyone at Touchpoints is polite and kind. I NEVER had to wait for very long when I used my call bell staff is attentive and caring. I felt like a whole person not just another patient. Kim, my care navigator, would come in to see me several times a day. She provided me with a wonderful power lift recliner which was a luxury! The communication with my family was excellent. I am so surprised how quickly I have improved and now going home! My pain is gone…I am walking with confidence. If I ever need rehab again, Touchpoints will be my one and only choice. I give Touchpoints 5 stars!!"
~ Mary Simoes, from Google Reviews (May 2019)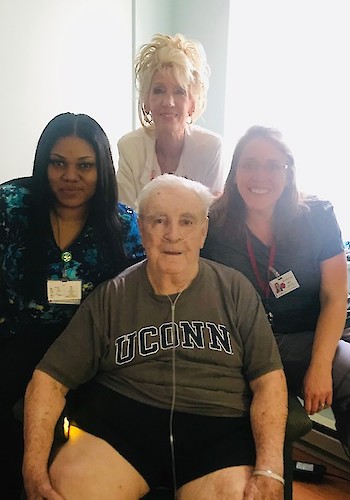 "While I was at the hospital, my Pulmonologist, Dr Rodgers, recommended that I go to Touchpoints of Manchester for some short term rehab and I am so glad I did! All the staff is so knowledgeable about COPD and Congestive Heart Failure. Everyone was helpful in ways you can not imagine. No one ever made me feel like I was imposing. It's personal at Touchpoints! It is the people, the entire staff, everyone is so helpful. My Pulmonologist was able to see me at Touchpoints. I also received education and care from Maureen, my Respiratory Therapist. The Transitional Care Nurse kept a close eye on my heart issues and they all made sure everyone was informed and on top of everything. I have been trouble walking for some time, my great therapy team jumped into action and got me a brace that immediately changed how I was able to be on my feet! In preparation for returning to my home, Beth and Erin my rehab specialists performed a home assessment with me and my family. Their suggestions were so helpful, not just for my immediate needs for for keeping me independent and safe at home for the long run. I will recommend Touchpoints of Manchester to everyone. It's the wonderful people there that make all the difference."
~ Robert Reynolds (April 2019)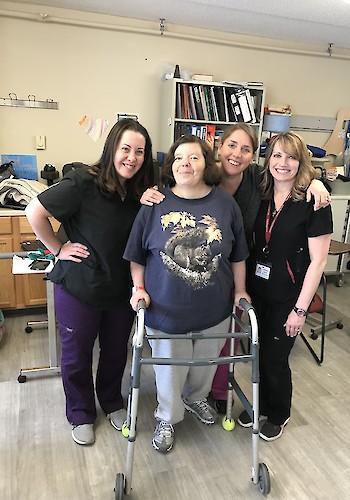 "I had my first knee replacement in January of this year. I had heard good things about Touchpoints at Manchester so when my doctor suggested a short rehab stay, I chose Touchpoints. When I arrived it was like a welcoming party! I have stayed at other rehabs and it was like being dropped off and forgotten, but not at Touchpoints. They were great about supporting my Gluten free needs for every meal. Everyone was kind, compassionate and the care was fantastic! So when it was time for my other knee to be replaced, Touchpoints at Manchester was my only choice. I pre-booked my rehab stay with a simple phone call. Once again, when I arrived I was warmly greeted. Everyone remembered me, it was like old home week! The kitchen staff even remembered that I am Gluten free. I really enjoyed my rehab here. It is peaceful and friendly. The perfect balance of excellent rehab and rest. My progress has been amazing! I am going home in just one week. Touchpoints arranged for all the home services I will need. My Touchpoints family goes above and beyond everyday, every time. Touchpoints at Manchester will continue to be my only choice for Rehab. I would not go anywhere else! I am excited to be able to return for Outpatient Physical Therapy. Thank you to all my friends at Touchpoints!"
~ Carol Pilkin (April 2019)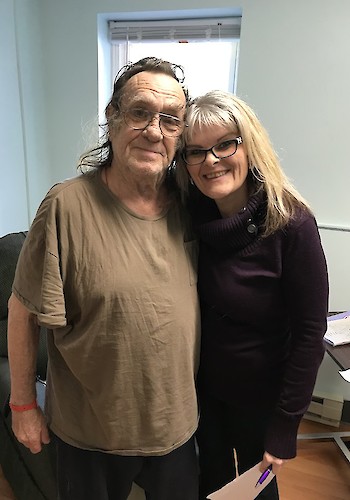 "While I was at the hospital having a total knee replacement, it was recommended that I go for short term rehab for a few days before going home. Touchpoints at Manchester was recommended to me. I was told "Go see Kim"; she will take good care of you. And that is exactly what happened! Everyone was so attentive and nice to me. My private room with a power lift recliner was great! I feel that this special chair helped me want to be up more, I had no swelling in my legs and boy was it comfortable. I asked if I may take it home. The therapy team was great. Having therapy several times a day, everyday helped me get better faster. I have had very little pain which is surprising to me. After only a few days I feel strong and ready to go home and get back to my walks outside and enjoy this beautiful time of year. I would come back to Touchpoints at Manchester again. Everyone here was so good to me."
~ David Boyle (April 2019)
"I have been a resident of Touchpoints at Manchester on 4 different occasions. All have been for rehab after surgeries. My experience has been very rewarding. The therapists are so compassionate.Kim, Erin, Heather, Beth and Tani considered my therapeutic needs along with my feelings. During times of being very emotional, everybody was so empathetic. They all expressed their heartfelt support. Their knowledge and individual experiences allowed me to achieve the independence level I was at prior to my knee replacement surgery. After being discharged, I will return for Outpatient Therapy with "MY REHAB TEAM". My experiences at Touchpoints at Manchester have proven successful. I highly recommend this facility to those in search of therapy. I give Touchpoints at Manchester 5 Stars!"
~ Doreen Small (April 2019)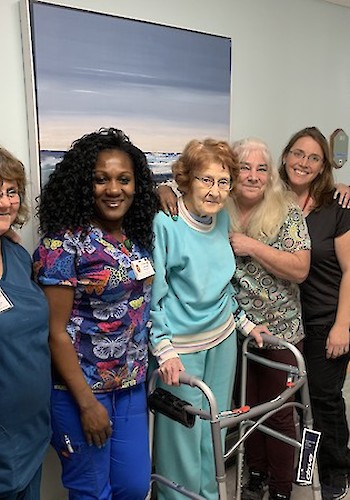 "The surgery and rehab have been a unique experience for me. At 92 you never know what to expect The quality of compassion , encouragement and assistance by the staff has enabled me to go on the "road to recovery quickly". Thank you! Resident's Daughter: This was our first experience with rehab and I would like to share that having a point person, who is Kim, the care navigator and "angel" who welcomed us to contact her anytime, and it was truly anytime, made a very stressful uncertain family emergency less stressful. We felt fully supported by her thru out mom's stay. She even went to mom's orthopedic appointment and did a comprehensive home assessment. Communication with her was easy and always complete. Our mom was happy and able to move thru her rehab surprising well."
~ Elizabeth Tracy (April 2019)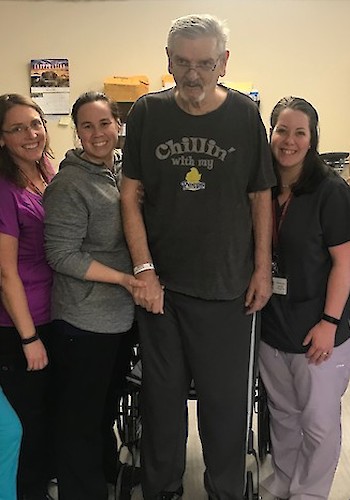 "Thank you so much for all the wonderful care you gave my dad. I feel like we won the lottery!! All the staff at Touchpoints at Manchester are wonderful. The rehab team made therapy fun and successful for my dad. Kim, the Physical therapist and Patient Liaison is amazing. She She kept me the the loop about everything. She was able to get appointments with the specialists my dad needed quickly and she even attended those appointments. Having a rehab professional at the neuro and cardiology appointment made all the difference. She could answer the doctor's questions as well as ASK the right questions. She gave me and my dad a greater sense of caring and confidence. I could contact Kim 24/7 , she always welcomed my calls and responded quickly even during evenings and weekends. The TAM team took the stress off our family while helping my dad be the best he could be in preparation for his return to home. The home assessment was invaluable. They also provided caregiver training. It is all very personal at Touchpoints We all loved the care this rehab team gave my dad. Heaven forbid my dad will require another short term rehab stay, our only choice will be Touchpoints at Manchester."
~ Daughter of Patient ER (April 2019)
"My dad was here for 104 days. The care here was exceptional. Kim and ALL of the therapy staff were very kind and got my Dad laughing while healing. (If you knew my dad, you'd know its a hard thing to do)lol!! They were there for all my Dads needs and were on top of everything! Kim came with us to his Dr. Appointments, and I was very thankful for her because she knew how to explain his situation to the Drs. All of the staff were very friendly. I would recommend this to anyone!!"
~ Melissa B via Yelp (April 2019)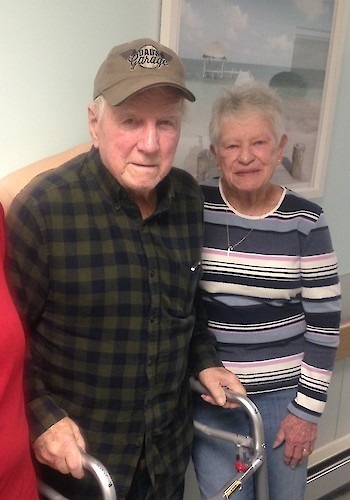 "My family have been fans of Touchpoints at Manchester for many years, so when I needed rehab after my open heart surgery Touchpoints was my only choice. I experienced many complications but the amazing nurses and therapists were on top of things every step of the way. In addition to exceptional care, the food is excellent, my private room is beautiful, they even gave me a power lift recliner to help me protect my surgery. The therapy staff is outstanding! They make all the hard work enjoyable. Kim, my care navigator , even went with me to my cardiology appointment. Having her there made all the difference. Kim also made sure my stay was great in every way. She also supported my wife and daughter so this whole stressful event was easier for them too. Kim makes everyone feel like you are the most important person alive. I am so surprised that I am going home so soon after all I have been through. My family and I feel confident that I am ready, and we all have the education and services I need to continue my recovery. I give Touchpoints at Manchester 5 stars. I recommended Touchpoints to everyone. Thank you all!"
~ Richard Small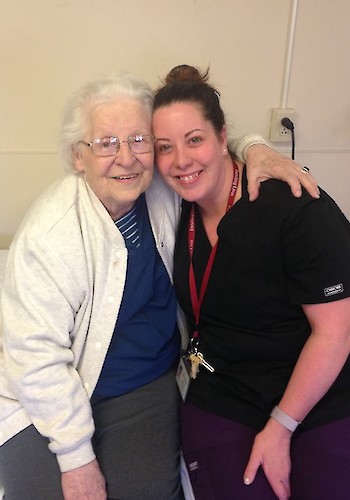 "When I was advised to go from the hospital to rehab my first and only choice was Touchpoints at Manchester. I had rehab at TAM before and my experience was wonderful. When I arrived this time my room was set up with flowers, a beautiful soft comfy throw and a power recliner. Everything was just as I remembered from my last stay. Everyone, every shift is so friendly, attentive and helpful. I actually enjoyed every minutes of my stay. The rehab team is great! They helped me to be up and independent so quickly, I made it home in one week. at 85 years old, many people did not think that was possible! I feel ready and confident to go home but more importantly my family feels ready. I will continue to recover by coming back to Touchpoints Rehab Outpatient Center. Touchpoints at Manchester will always be my first and only choice."
~ Irene St. Laurent
"My friend Craig has had 3 rehab stays here at Touchpoints of Manchester. He has a very complicated medical condition and I am happy to say he is going home the best I have seen him in a long time. I really want to thank Kim, the wonderful Care Navigator for always going out of her way to help, support and make sure my Craig felt care for and about. She was always there to help me too. From the little to the big things she was always finding ways to make things better for everyone. I am very grateful for Kim. She should get a A+."
~ Carol Yanaros (September 2018)
"My experience here at Touchpoints at Manchester was great and very helpful. The girls in therapy were great. The staff is wonderful. No complaints. Going to miss you all. Thank you for helping me recover."
~ Barb H. (September 2018)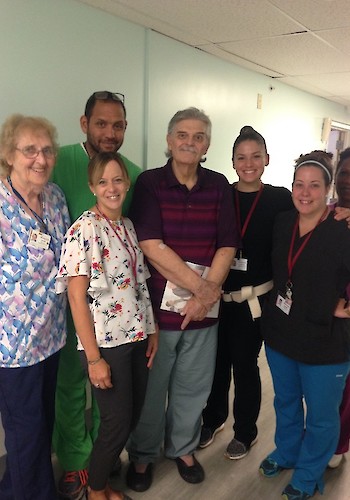 "I was greeted by the staff as if I was a genuinely a concern to them, and my welfare was a priority. As time and treatment began I received exercise that was not forced, but tailored to my ability at the time. I made progress at a rate I felt comfortable with but seemed to far exceed my expectations and that of your staff. Your staff can only be described as what I will call my "Angels" even if I am not "Charlie". I hope I made some positive impressions upon them and I know from my standpoint I am proud to call them "friend". I will miss each and every one of you, but will keep you in my prayers and heart forever."
~ Robert LaPlante (August 2018)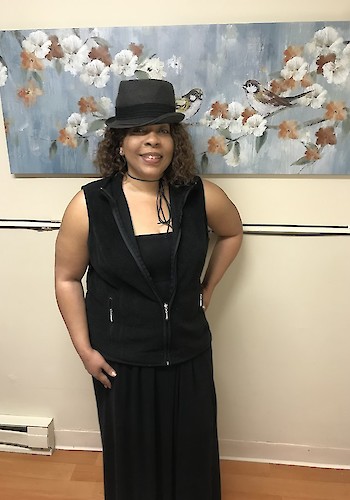 "When I was in the hospital they told me I would need to go to short term rehab for a while. I chose Touchpoints at Manchester and I am so glad I did. Everyone from day one was attentive, patient, timely in their responses to my needs. The quality of the care here gets my rating of 5 out of 5! I felt like family! The staff on every level, dietary, housekeeping, nursing and Rehab, is warm and welcoming. The team here is like a "well oiled machine". Even the smallest of things were taken care of. I give my new family at Touchpoints a 5 star salute! I will miss you all!"
~ Leisa Duncan - Veteran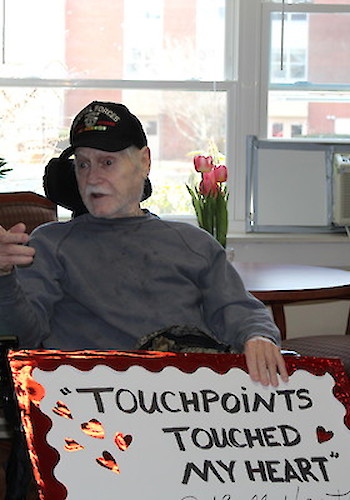 "As a Vietnam vet, I am a very complex person and patient. Due to serious illness and physical disability, I was told I would have to go from the hospital to a long term care nursing home for the rest of my life. I had been at Touchpoints at Manchester for short term rehab sometime ago so I decided to go back. Between my PTSD and years of having a angry, negative attitude, I was not the easiest guy to be around never mind care for. But something amazing happened to me at Touchpoints. The wonderful staff helped me become a more positive person. All the staff, including housekeeping, dietary, rehab, nursing and Veteran support made me feel comfortable, valued and very cared for. I give them all an A+. This new found positive outlook and support from the amazing people at Touchpoints got me motivated and determined to improve enough to go home again. Well today is the day, I am getting on a airplane to go live with my beloved daughter! Kim helped me put together a Thank You party for the staff I have grown to love. I was trying to find the words that expressed how I feel about my new found friends. "Touchpoints touched my heart," suddenly just flowed from my lips, "and they truly did.""
~ Peter Heath (April 2018)
"I tell so many people about Touchpoints at Manchester. At first glance you my think this is not the most glamorous place BUT what they do have is HEART! which I feel is so much more important. When you are here at Touchpoints you are with people who are loving and compassionate You can tell they really care. My physical therapist, Kim has helped me more than anyone else has. She helped me to regain my independence, my strength , got rid of my chronic recurring pain and helped me feel more confident so I am now enjoying my life and family again. This is my second time to rehab at Touchpoints, the therapists are so wonderful with everyone. They seem to bring out the best in everybody. Touchpoints is and will always be my first and only choice."
~ Pat Hilinski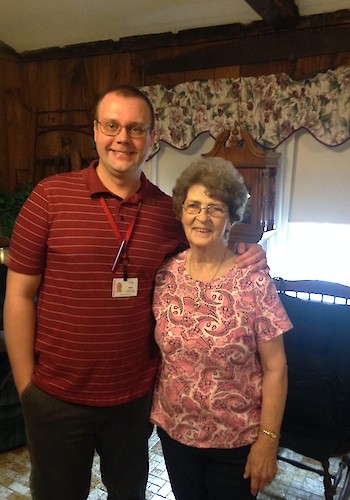 "I took a bad fall which caused me to fracture my hip. My doctor explained to me that I needed to go for In patient rehab. I have a few friends who had wonderful experiences at Touchpoints at Manchester, so I began my recovery there. My friends were right. I had a wonderful experience and I was very excited to hear that Touchpoints also offers homecare. I had homecare before and I never knew when the PT coming, I almost declined Homecare services because of that other experience. Boy am I glad I chose Touchpoints at Home. I will recommend TAH without hesitation. I am ready to take my planned vacation now. I thought I would have to cancel it but my husband and I are really looking forward to travelling and getting our lives back on track."
~ Jeannine Nadeau (March 2018)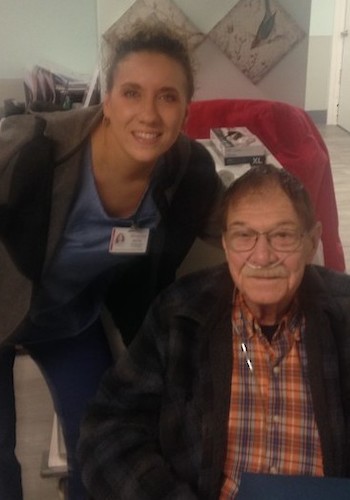 "Everyone at Touchpoints at Manchester is wonderful and kind. I had a great rehab stay here. I have been in and out of the hospital often over the past few years due to lung cancer and my COPD so I have had a few rehab stays. The staff at Touchpoints just go out of their way to make sure each patient feels cared for and cared about. Maureen, the Touchpoints Respiratory Therapist, is amazing. In all the years I have been receiving care for my breathing issues, she was the first one who taught me how to breath correctly, with less effort and more benefit. I was excited to be seen by the same Pulmonologist, Dr. Preskenis, that worked with me at Saint Francis Hospital. You can tell the doctors and staff communicate, everyone was up to date about me. The Rehab Therapy team was terrific too. I wish I could thank the entire staff by name. I am going home with confidence."
~ David Sandstrom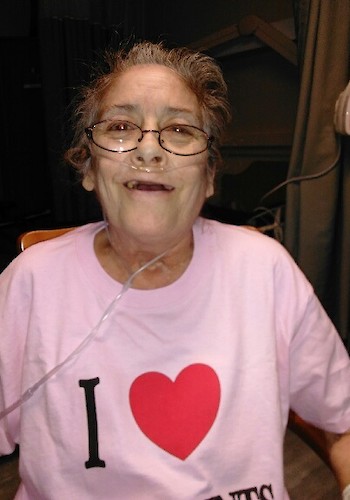 ""Best decision ever! I give Touchpoints at Manchester Five Stars." Due to my advanced COPD, I have had many different rehab stays but none as wonderful as my rehab stay here at Touchpoints at Manchester. Not only is the care exceptional, the staff made me feel welcome and like family. My room felt homey. All the staff from the housekeepers, dietary, rehab and nursing are kind and friendly. Yuri, who is a CNA not even assigned to me, would stop in everyday with his big smile and warm voice. When I arrived at Touchpoints, I was in pretty bad shape, I needed help with everything because I was weak and easily out of breath. But in a short time , due to all the great care from Rehab, Nursing and the onsite Respiratory Therapist, I gained strength and most importantly the confidence to do more and more each day. My pulmonary and physical recovery at Touchpoints far exceeded my expectations. I am excited to tell everyone about how wonderful Touchpoints at Manchester is. I asked for information about this program to take home to share with friends and family. Kim made me a T shirt that expressed my experience, "I LOVE TOUCHPOINTS" I immediately wore it with pride."
~ Wanda (December 2017)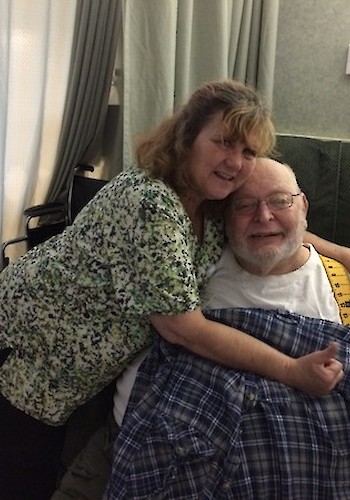 "My Touchpoints experience was wonderful. I feel like I was part of a family here. I will recommend Touchpoints at Manchester whole heartedly. I encourage others to be an active part in your health care plan. Touchpoints at Manchester will encourage and support you.Thank God for Kim, my Care Navigator, and Debbie, my angel CNA. They immediately supported me to feel more confident about my care and helped me to better understand the process of getting better. Because of this support I was able to focus on my recovery. My wife received wonderful support as well. She could contact Kim 24/7 with questions or to just chat. Touchpoints at Manchester is pet-friendly!! My beautiful dog Abby is family and was able to visit everyday. Kim even made sure she had her very own water dish. These visits with my dog kept me focused on getting home."
~ Irving Richert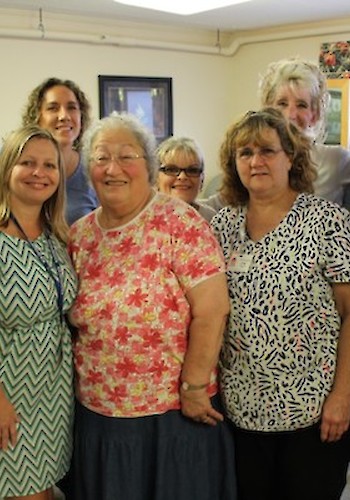 "My adventure started in 2013, I suffered a stroke and lost my ability to walk. I went to Touchpoints at Manchester and I got on my feet again. Then 2015 I was hit with cancer in my spine and I had surgery. I could not even move my legs. I went to several different nursing facilities over the next several months, but I was sent home unable to even stand. I required help with everything. I was told by many that I would never walk again. That was just not acceptable! I had help coming in but I just knew if I would ever be able to walk again I had to get to rehab, so I called Kim at Touchpoints at Manchester."
~ Maria D'Addabbo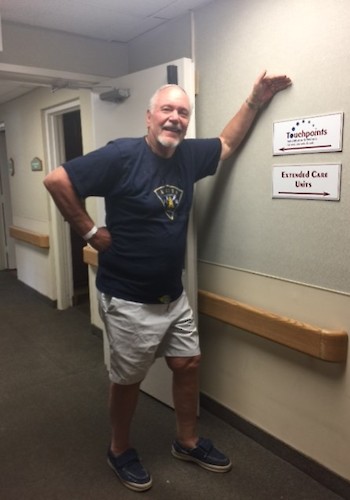 "I heard about Kim and the Prehab program at Touchpoints at Manchester. We spoke on the phone several times, she even sent me information about what to expect if I did go to Touchpoints for rehab and also a check list of what to pack. During my hospital stay I did so much better than I had expected to do. I feel it was because of my Prehab treatments. I was lucky to be able to go to Touchpoints directly from the hospital. The care from the entire staff was excellent. I had a nice private room. My private room also had a power lift recliner! It gave me the opportunity to relax and rest. They made me feel like a king! I really feel the staff truly cares a lot for each and every patient there. I was very pleased with the food. I was having a craving one day and Kim went out and made sure I got exactly what I was craving. Above and beyond!!!"
~ George F (October 2017)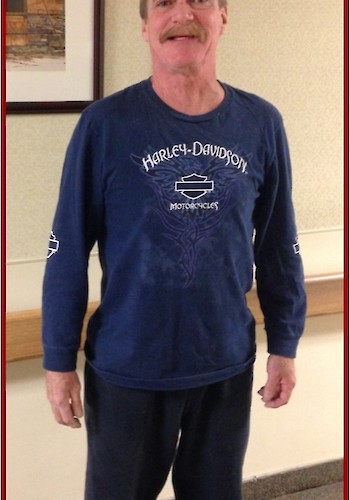 "I arrived at Touchpoints requiring help for everything and today, only 10 days later, I am going home, walking on my own, not even a cane! I passed the balance test with a score of 100%. In just 10 days I feel I am almost back to being me again. My wife and I are happy with the rehab and care at Touchpoints…. the speed of my recovery speaks for itself. I am going home today!"
~ Kelly Shine
"The whole staff went above and beyond…I think anyone who comes to Touchpoints at Manchester will be happy…You are a person first, a patient second."
~ Maria
"I almost gave up but the wonderful people at Touchpoints gave me the help and support I needed to be able to go home. I cannot thank enough, my surgeon, Dr. Kruger, my family and the staff at Touchpoints, I have my life back. Home means everything to me. I give Touchpoints at Manchester a 5 out of 5 rating."
~ Richard (March 2017)
"My BP, heart rate and blood oxygen levels stayed steady and strong. I wish I had gone to Touchpoints at Manchester first but I am grateful for the fact my wife took the initiative due to research and found TOUCHPOINTS at MANCHESTER. My Nurse Cristina and the wonderful CNAs, especially Yuri and Debbie, their wound care program and the wonderful rehab staff made my stay successful and enjoyable! TOUCHPOINTS at MANCHESTER, BEST DECISION EVER!"
~ S. Brown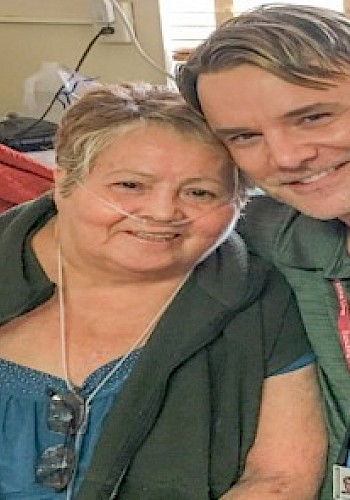 "These people know what they are doing…I thank them all from the bottom of my heart and God bless them. I felt like I was at home. My health has very much improved because of the wonderful people there, they saved my life and I could not have asked for a better stay. Thank you!"
~ Aurea L, CHF Patient (Nov 2016)
"I am so thankful to the therapists from Touchpoints at Home and Touchpoints at Manchester for helping my husband regain his independence and getting rid of his pain. His dignity and pride are a big part of who he is, and being able to drive and help around the house was so important."
~ Patient GW's spouse (March 2017)
"I received pre-hab services at Touchpoints of Manchester. That was the best decision I could have made. After my surgery I had no pain…I was walking with almost no limp. One month after surgery I am walking without a cane. I also slept with very little discomfort. I thank the [entire team] for making something I dreaded into a very relaxing experience, especially for someone who is 87 year old."
~ Dorothea C. (March 2017)
"[Chose Touchpoints at Manchester] for the convenience, the location, and the quality of their rehab. I thought I had good care. The staff was great. I was very happy with their care. I got along with everyone. They were all very good. They did their job well. I was very happy with the care."
~ Patient PM (May 2017)
"They were always very helpful with me. They were always there. They were trying to get up and move around. I would tell them that they care for you. They are there. They listen to you. They have lots of projects to do. I could not go out. They take you shopping. They bring you outside. They have a beautiful patio. They have barbecues in the summer."
~ Patient WM (June 2017)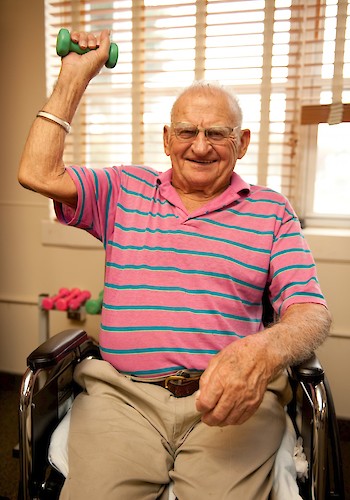 "When I got here, I liked that it was newly renovated. Everything is chugging along. The staff is very good, and the therapists know what they are doing."
~ Ed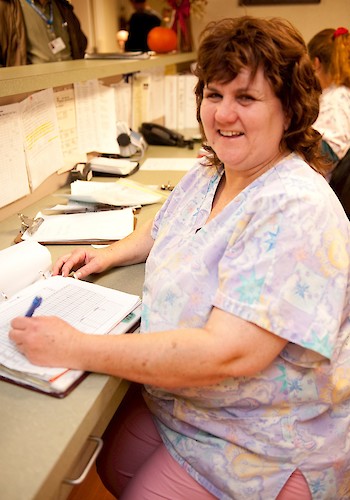 "The people here are all very caring. I treat all the patients the way I would want my family treated. I talk to them like they are my family. In fact, my stepfather came here for end of life care. His nickname to those who knew him was "Crankie Frankie", but here he was always happy! This place put a smile on his face, and made me and my mom feel really good about our decision to have him here."
~ Debra Jean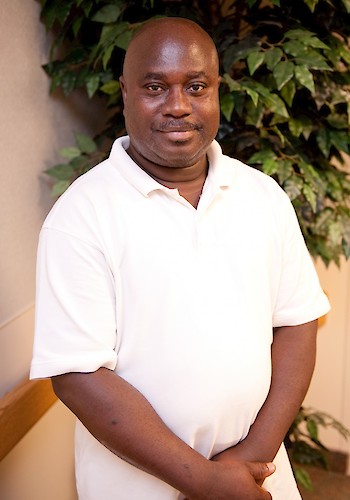 "The work atmosphere here is good. People are willing to help each other. The different departments all work together and watch out for each other. Together, we provide great care for our residents. I can attest that people work here to provide care that they would provide their own mother."
~ Stephen Jennings
"Rated 10/10. The facility is number one in my book. I am very happy here and they are doing wonders and i love it here. I feel very safe and happy and when i am upset the staff always are here to support me and make me feel better."
~ Resident MH (March 2021)