Welcome to Touchpoints at Manchester
Tracy Newport
Administrator
Dear Residents and Family Members,
Welcome to Touchpoints at Manchester.   We are proud to have an outstanding team, evident in our CMS Star rating, American Health Care Association awards and exceptional survey outcomes.  Touchpoints at Manchester is a proud member of the St. Francis Hospital Post-Acute Care Network, as well as a partner in the accountable care organization (ACO) of Eastern Connecticut Health Network.  
I have been a licensed skilled nursing facility administrator with a successful track record since 1990 and I firmly believe this stems from my philosophy of "always just do the right thing". Our Director of Nurses, Karen Miller, leads a strongly motivated experienced nursing department who treats the 'whole person' as we strive to meet the physical, emotional, and psycho-social needs of all our residents.  This facility treats resident care with a holistic approach and our team follows the company mission that they will "enrich the lives of the residents we serve".
We are a leader in post-acute, rehabilitative care.  Services also include a secured behavioral health program with a strong recovery-based model and our signature, specialized program for congestive heart failure rehabilitation and pulmonary care. Continue reading

Specialty Services

iCare Heartbeat
All the latest news, discussion, and updates from the iCare & Touchpoints Rehab team.
MANCHESTER (December 14, 2018) – On December 12, 2018 members of iCare Health Network's leadership team visited the lobbies of all 10 iCare care centers across greater Hartford to check out the Christmas decorations. Skits were performed. Carols were sung. Lots of eggnog and cookies were consumed. Check out the pictures!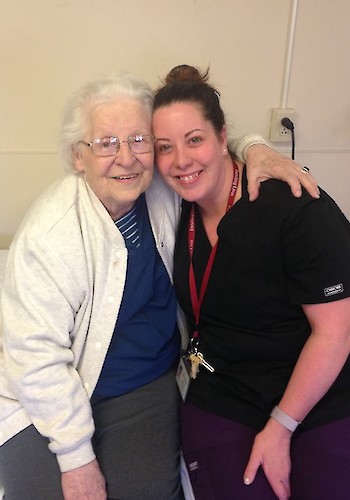 "When I was advised to go from the hospital to rehab my first and only choice was Touchpoints at Manchester. I had rehab at TAM before and my experience was wonderful. When I arrived this time my room was set up with flowers, a beautiful soft comfy throw and a power recliner. Everything was just as I remembered from my last stay. Everyone, every shift is so friendly, attentive and helpful. I actually enjoyed every minutes of my stay. The rehab team is great! They helped me to be up and independent so quickly, I made it home in one week. at 85 years old, many people did not think that was possible! I feel ready and confident to go home but more importantly my family feels ready. I will continue to recover by coming back to Touchpoints Rehab Outpatient Center. Touchpoints at Manchester will always be my first and only choice."
~ Irene St. Laurent
"My friend Craig has had 3 rehab stays here at Touchpoints of Manchester. He has a very complicated medical condition and I am happy to say he is going home the best I have seen him in a long time. I really want to thank Kim, the wonderful Care Navigator for always going out of her way to help, support and make sure my Craig felt care for and about. She was always there to help me too. From the little to the big things she was always finding ways to make things better for everyone. I am very grateful for Kim. She should get a A+."
~ Carol Yanaros (September 2018)
"My experience here at Touchpoints at Manchester was great and very helpful. The girls in therapy were great. The staff is wonderful. No complaints. Going to miss you all. Thank you for helping me recover."
~ Barb H. (September 2018)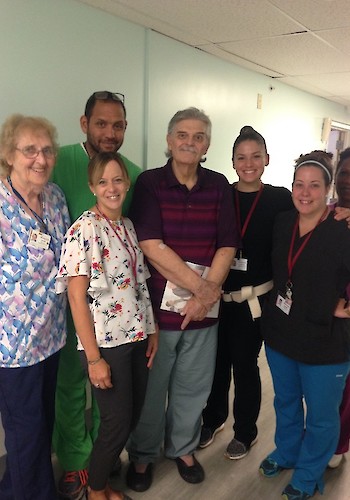 "I was greeted by the staff as if I was a genuinely a concern to them, and my welfare was a priority. As time and treatment began I received exercise that was not forced, but tailored to my ability at the time. I made progress at a rate I felt comfortable with but seemed to far exceed my expectations and that of your staff. Your staff can only be described as what I will call my "Angels" even if I am not "Charlie". I hope I made some positive impressions upon them and I know from my standpoint I am proud to call them "friend". I will miss each and every one of you, but will keep you in my prayers and heart forever."
~ Robert LaPlante (August 2018)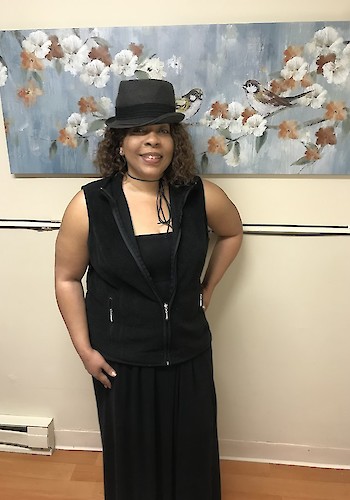 "When I was in the hospital they told me I would need to go to short term rehab for a while. I chose Touchpoints at Manchester and I am so glad I did. Everyone from day one was attentive, patient, timely in their responses to my needs. The quality of the care here gets my rating of 5 out of 5! I felt like family! The staff on every level, dietary, housekeeping, nursing and Rehab, is warm and welcoming. The team here is like a "well oiled machine". Even the smallest of things were taken care of. I give my new family at Touchpoints a 5 star salute! I will miss you all!"
~ Leisa Duncan - Veteran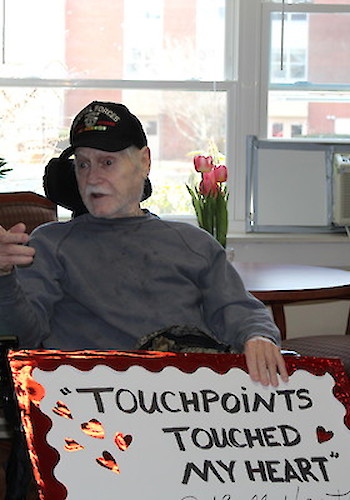 "As a Vietnam vet, I am a very complex person and patient. Due to serious illness and physical disability, I was told I would have to go from the hospital to a long term care nursing home for the rest of my life. I had been at Touchpoints at Manchester for short term rehab sometime ago so I decided to go back. Between my PTSD and years of having a angry, negative attitude, I was not the easiest guy to be around never mind care for. But something amazing happened to me at Touchpoints. The wonderful staff helped me become a more positive person. All the staff, including housekeeping, dietary, rehab, nursing and Veteran support made me feel comfortable, valued and very cared for. I give them all an A+. This new found positive outlook and support from the amazing people at Touchpoints got me motivated and determined to improve enough to go home again. Well today is the day, I am getting on a airplane to go live with my beloved daughter! Kim helped me put together a Thank You party for the staff I have grown to love. I was trying to find the words that expressed how I feel about my new found friends. "Touchpoints touched my heart," suddenly just flowed from my lips, "and they truly did.""
~ Peter Heath (April 2018)
"I tell so many people about Touchpoints at Manchester. At first glance you my think this is not the most glamorous place BUT what they do have is HEART! which I feel is so much more important. When you are here at Touchpoints you are with people who are loving and compassionate You can tell they really care. My physical therapist, Kim has helped me more than anyone else has. She helped me to regain my independence, my strength , got rid of my chronic recurring pain and helped me feel more confident so I am now enjoying my life and family again. This is my second time to rehab at Touchpoints, the therapists are so wonderful with everyone. They seem to bring out the best in everybody. Touchpoints is and will always be my first and only choice."
~ Pat Hilinski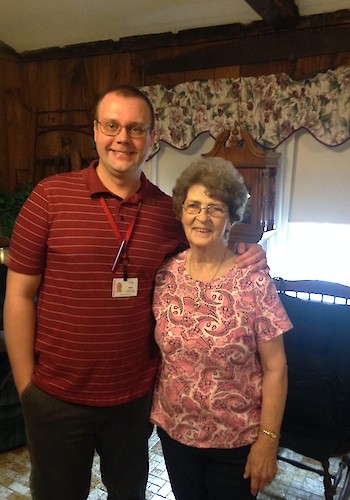 "I took a bad fall which caused me to fracture my hip. My doctor explained to me that I needed to go for In patient rehab. I have a few friends who had wonderful experiences at Touchpoints at Manchester, so I began my recovery there. My friends were right. I had a wonderful experience and I was very excited to hear that Touchpoints also offers homecare. I had homecare before and I never knew when the PT coming, I almost declined Homecare services because of that other experience. Boy am I glad I chose Touchpoints at Home. I will recommend TAH without hesitation. I am ready to take my planned vacation now. I thought I would have to cancel it but my husband and I are really looking forward to travelling and getting our lives back on track."
~ Jeannine Nadeau (March 2018)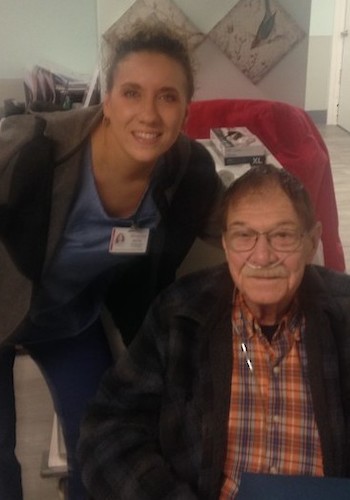 "Everyone at Touchpoints at Manchester is wonderful and kind. I had a great rehab stay here. I have been in and out of the hospital often over the past few years due to lung cancer and my COPD so I have had a few rehab stays. The staff at Touchpoints just go out of their way to make sure each patient feels cared for and cared about. Maureen, the Touchpoints Respiratory Therapist, is amazing. In all the years I have been receiving care for my breathing issues, she was the first one who taught me how to breath correctly, with less effort and more benefit. I was excited to be seen by the same Pulmonologist, Dr. Preskenis, that worked with me at Saint Francis Hospital. You can tell the doctors and staff communicate, everyone was up to date about me. The Rehab Therapy team was terrific too. I wish I could thank the entire staff by name. I am going home with confidence."
~ David Sandstrom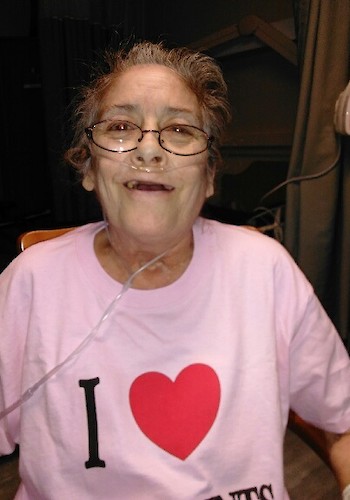 ""Best decision ever! I give Touchpoints at Manchester Five Stars." Due to my advanced COPD, I have had many different rehab stays but none as wonderful as my rehab stay here at Touchpoints at Manchester. Not only is the care exceptional, the staff made me feel welcome and like family. My room felt homey. All the staff from the housekeepers, dietary, rehab and nursing are kind and friendly. Yuri, who is a CNA not even assigned to me, would stop in everyday with his big smile and warm voice. When I arrived at Touchpoints, I was in pretty bad shape, I needed help with everything because I was weak and easily out of breath. But in a short time , due to all the great care from Rehab, Nursing and the onsite Respiratory Therapist, I gained strength and most importantly the confidence to do more and more each day. My pulmonary and physical recovery at Touchpoints far exceeded my expectations. I am excited to tell everyone about how wonderful Touchpoints at Manchester is. I asked for information about this program to take home to share with friends and family. Kim made me a T shirt that expressed my experience, "I LOVE TOUCHPOINTS" I immediately wore it with pride."
~ Wanda (December 2017)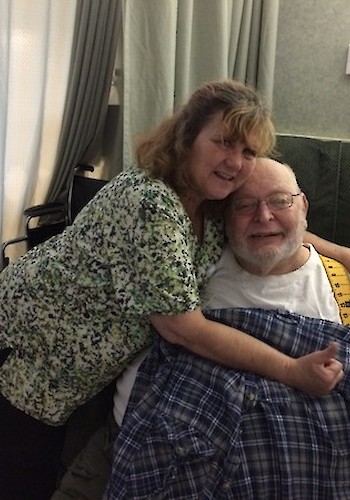 "My Touchpoints experience was wonderful. I feel like I was part of a family here. I will recommend Touchpoints at Manchester whole heartedly. I encourage others to be an active part in your health care plan. Touchpoints at Manchester will encourage and support you.Thank God for Kim, my Care Navigator, and Debbie, my angel CNA. They immediately supported me to feel more confident about my care and helped me to better understand the process of getting better. Because of this support I was able to focus on my recovery. My wife received wonderful support as well. She could contact Kim 24/7 with questions or to just chat. Touchpoints at Manchester is pet-friendly!! My beautiful dog Abby is family and was able to visit everyday. Kim even made sure she had her very own water dish. These visits with my dog kept me focused on getting home."
~ Irving Richert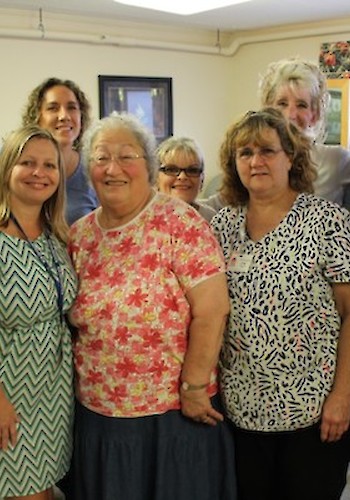 "My adventure started in 2013, I suffered a stroke and lost my ability to walk. I went to Touchpoints at Manchester and I got on my feet again. Then 2015 I was hit with cancer in my spine and I had surgery. I could not even move my legs. I went to several different nursing facilities over the next several months, but I was sent home unable to even stand. I required help with everything. I was told by many that I would never walk again. That was just not acceptable! I had help coming in but I just knew if I would ever be able to walk again I had to get to rehab, so I called Kim at Touchpoints at Manchester."
~ Maria D'Addabbo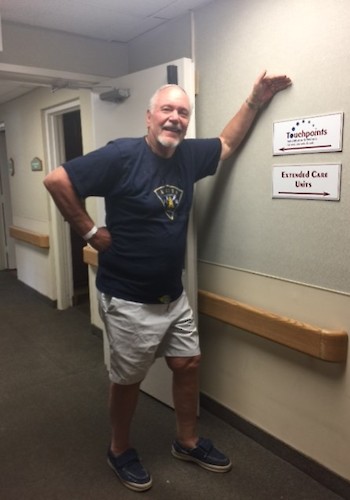 "I heard about Kim and the Prehab program at Touchpoints at Manchester. We spoke on the phone several times, she even sent me information about what to expect if I did go to Touchpoints for rehab and also a check list of what to pack. During my hospital stay I did so much better than I had expected to do. I feel it was because of my Prehab treatments. I was lucky to be able to go to Touchpoints directly from the hospital. The care from the entire staff was excellent. I had a nice private room. My private room also had a power lift recliner! It gave me the opportunity to relax and rest. They made me feel like a king! I really feel the staff truly cares a lot for each and every patient there. I was very pleased with the food. I was having a craving one day and Kim went out and made sure I got exactly what I was craving. Above and beyond!!!"
~ George F (October 2017)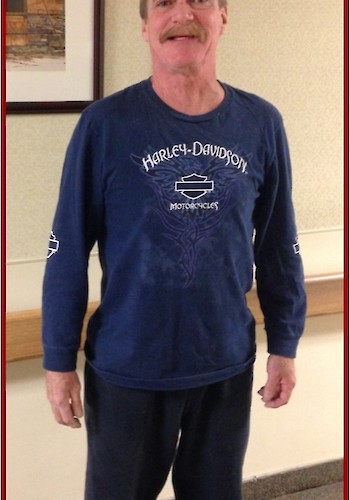 "I arrived at Touchpoints requiring help for everything and today, only 10 days later, I am going home, walking on my own, not even a cane! I passed the balance test with a score of 100%. In just 10 days I feel I am almost back to being me again. My wife and I are happy with the rehab and care at Touchpoints…. the speed of my recovery speaks for itself. I am going home today!"
~ Kelly Shine
"The whole staff went above and beyond…I think anyone who comes to Touchpoints at Manchester will be happy…You are a person first, a patient second."
~ Maria
"I almost gave up but the wonderful people at Touchpoints gave me the help and support I needed to be able to go home. I cannot thank enough, my surgeon, Dr. Kruger, my family and the staff at Touchpoints, I have my life back. Home means everything to me. I give Touchpoints at Manchester a 5 out of 5 rating."
~ Richard (March 2017)
"My BP, heart rate and blood oxygen levels stayed steady and strong. I wish I had gone to Touchpoints at Manchester first but I am grateful for the fact my wife took the initiative due to research and found TOUCHPOINTS at MANCHESTER. My Nurse Cristina and the wonderful CNAs, especially Yuri and Debbie, their wound care program and the wonderful rehab staff made my stay successful and enjoyable! TOUCHPOINTS at MANCHESTER, BEST DECISION EVER!"
~ S. Brown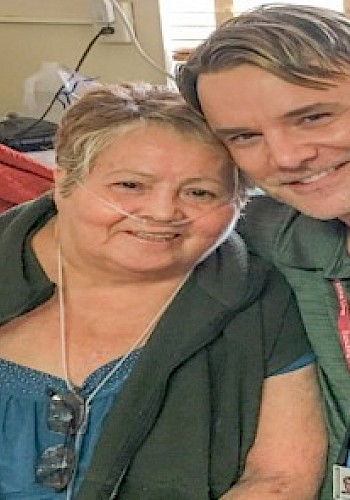 "These people know what they are doing…I thank them all from the bottom of my heart and God bless them. I felt like I was at home. My health has very much improved because of the wonderful people there, they saved my life and I could not have asked for a better stay. Thank you!"
~ Aurea L, CHF Patient (Nov 2016)
"I am so thankful to the therapists from Touchpoints at Home and Touchpoints at Manchester for helping my husband regain his independence and getting rid of his pain. His dignity and pride are a big part of who he is, and being able to drive and help around the house was so important."
~ Patient GW's spouse (March 2017)
"I received pre-hab services at Touchpoints of Manchester. That was the best decision I could have made. After my surgery I had no pain…I was walking with almost no limp. One month after surgery I am walking without a cane. I also slept with very little discomfort. I thank the [entire team] for making something I dreaded into a very relaxing experience, especially for someone who is 87 year old."
~ Dorothea C. (March 2017)
"[Chose Touchpoints at Manchester] for the convenience, the location, and the quality of their rehab. I thought I had good care. The staff was great. I was very happy with their care. I got along with everyone. They were all very good. They did their job well. I was very happy with the care."
~ Patient PM (May 2017)
"They were always very helpful with me. They were always there. They were trying to get up and move around. I would tell them that they care for you. They are there. They listen to you. They have lots of projects to do. I could not go out. They take you shopping. They bring you outside. They have a beautiful patio. They have barbecues in the summer."
~ Patient WM (June 2017)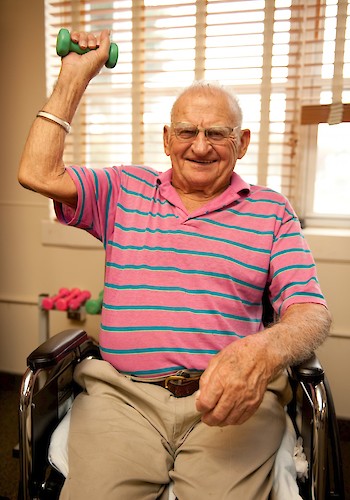 "When I got here, I liked that it was newly renovated. Everything is chugging along. The staff is very good, and the therapists know what they are doing."
~ Ed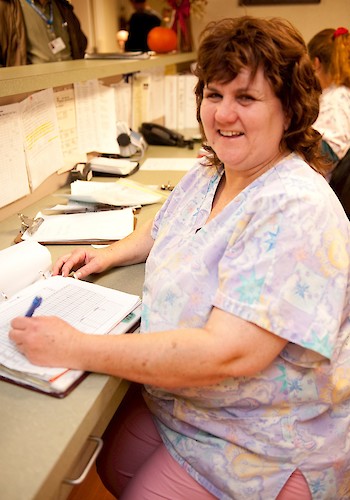 "The people here are all very caring. I treat all the patients the way I would want my family treated. I talk to them like they are my family. In fact, my stepfather came here for end of life care. His nickname to those who knew him was "Crankie Frankie", but here he was always happy! This place put a smile on his face, and made me and my mom feel really good about our decision to have him here."
~ Debra Jean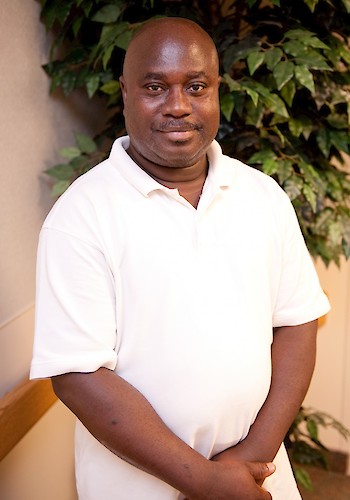 "The work atmosphere here is good. People are willing to help each other. The different departments all work together and watch out for each other. Together, we provide great care for our residents. I can attest that people work here to provide care that they would provide their own mother."
~ Stephen Jennings