We've partnered with TripleCare, a telemedicine-enabled physician group with a team of doctors that utilize two-way video and digital diagnostic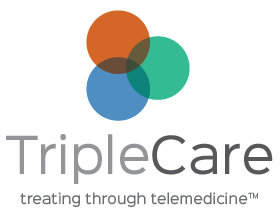 equipment to bring care directly to patients' bedsides.
By partnering with TripleCare, Touchpoints at Manchester is able to offer patients immediate treatment, without the need to travel or wait for a doctor.
You or your loved one can rest easy knowing that a doctor can be at your bedside and examining you within minutes. While not every medical issue can be treated in place, TripleCare helps make sure that patients will receive the best possible care while in our facility.
By using state-of-the-art telemedicine tools, TripleCare's doctors can speak directly with you, examine you, and help treat you, without you having to leave your bed. Our doctors work closely with your existing nurse and facility doctor to help prevent you from taking an unnecessary trip to the hospital.